"Shoes are just a pedestal. What interests me is the power of the woman who wears them" –Christian Louboutin

"Give a girl the right shoes and she can conquer the world" –Marilyn Monroe
There are innumerable quotes regarding a woman's distinct fascination with shoes which is clear evidence of just how much pivotal this piece to our everyday ensemble is. In fact, Cinderella herself is a testament to how a simple pair of shoes can change your life. This compounded with the belief that a woman only falls in love seven times in her life (with the six to various pairs of shoes), it can be safely assumed that womenfolk do have a particular affinity with shoes. With this in mind, it is important for each and every woman to cultivate an adult wardrobe which centers itself on sophistication and elegance and a good pair of shoes should not be left off.
To make sure you have a sartorial arsenal befitting that of a grown and sophisticated adult woman, be sure to have these essential shoes in your closet. Regardless of whether you are a career working woman, or a stay at home mom, these pairs should be present in your shoe collection.
1.) WHITE SNEAKERS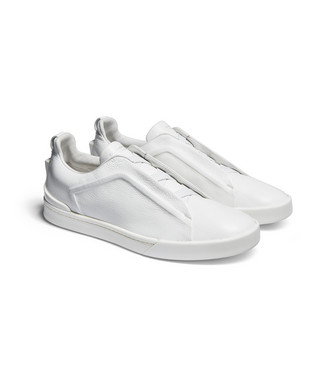 Undoubtedly, the plain and nondescript white sneakers we used to neglect or draw on as teenagers have now become paramount to having a complete shoe collection. This casual pair of shoes work on everything and by everything, we mean everything. From demure and girly dresses, boyfriend jeans, overalls, midi skirts to casual shorts, this pair of shoes adds just the right amount of casualness to any outfit and a touch of cool towards any ensemble. However, be forewarned: This can easily be the most overworked pair in your closet seeing as they work so well with almost any fashion getup. So, be sure to purchase a pair that is crisp, stylish and sturdy.
2.) PARTY HEELS/ PAIR OF STILETTOS
It is a firm belief by many fashion experts everywhere that a woman should at least own one pair of party heels or stilettos in order to have a complete closet. A pair of heels would not only add to a woman's height, but it gives her a sense of empowerment as well as a boost of confidence while wearing it. Though strutting in your favorite pair of wholesale Steve Madden stilettos may take a bit of getting used to, it would all be worth it in the end. Besides, any party outfit, no matter how plain, becomes immediately sexy with the prowess of a pair of stiletto's finishing touch.
3.) 3-INCH PUMPS
Your pair of 3-inch pumps can be anything, but they all need to have one universal characteristic: You should be able to walk in them comfortably. Your 4 or 5-inch pair of pumps can do you all sorts of favors when it comes to showing off your calves and toned legs, but it would not do your feet any favors and there is a likely incidence that you would not be able to walk in them for too long. This is why finding the perfect 3-inch pumps is imperative for any woman—especially for those who are in the corporate setting who wish to have a sophisticated outfit, minus the discomfort associated with wearing high heels for too long. Find a pair with a pointed toe and a slim heel—this will make the pair appear higher than it really is.
4.) WEDGES OR PLATFORMS
Choose a pair of platforms or wedge sandals that are comfortable enough to wear and at the same time, walk in and dance in for long periods. Considering this is the epitome of a summer staple, your choice should go beyond the traditional rope espadrille and should include options that would look appropriate and perfect with more formal ensembles. Break off the norm and push the boundaries of this trend with funky new platforms that would still achieve the same look or stick to the classics if you wish. Regardless of what style you choose, your outfit would be a sure winner when finished off with these shoes.
5.) FLAT SANDALS
Chuck out your flip flops in favor of flat sandals as the latter adds more finesse and sophistication to your outfit than your flip flops would and they are just as comfortable. Find a good pair of chic leather sandals that go with just about any outfit you can think of. They are easy to slide into and are incredibly versatile and sophisticated as well. This neutral pair would look perfect with anything and everything from casual chic to elegant, fancy dresses. Go for simpler designs with so many embellishments as this will give the pair a muted elegance about it—besides, you run the risk of losing jeweled stones on embellished flats when worn too often.
6.) BALLET FLATS
Ballet flats are often regarded as emergency shoes after a night out, and no self-respecting woman would ever have a closet sans this pair. Apart from saving you from sore heels and aching toes, this pair is also perfect for casual wears whether you are sporting something chic and feminine or something a bit more boyish. The simple addition of this pair to any ensemble adds a chic and feminine factor to any outfit making it a must-have in any woman's closet.
7.) RAINBOOTS
Do not opt for those tacky looking rain boots you would not want to be seen anywhere with. Instead, look for something stylish, chic and functional that you would wear even on ordinary days. Although it is important never to compromise comfort for style, when it is raining buckets it is important to have shoes that would keep your feet dry. This does not mean that you would have to sport an outlandish outfit, however. Just look for a pair of water-resistant boots that closely resemble everyday shoes and you are good to go.
Complete your shoe collection by making sure you have these seven essential shoes in your shoe closet. Give your outfits that much needed distinct personality and spice by finishing it off with the perfect pair of shoes.
Image Source, Image Source, Image Source, Image Source, Image Source, Image Source, Image Source